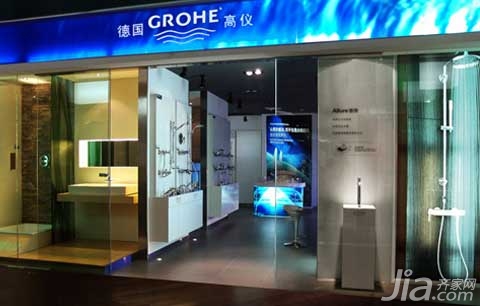 Where to buy GROHE faucet
GROHE Leading Shanghai Store Shanghai Xiyingmen 180 Store
Room 180, No. 320, Yishan Road
Phone: 021-64387397 Shanghai Xiyingmen
132-133 exhibition hall, 320 Yishan Road
Tel: 021-64411467 Chaoshan flagship store on Yishan Road
Gaoyi Flagship Store, 3024 Kaixuan Road, Shanghai
Phone: 021-64278883 Shanghai Kelasheng
No.446-448 Yishan Road
Tel: 021-64812331 Jiayishan Road Store
G1005, Jiajia Furniture, No. 450 Yishan Road, Xuhui District, Shanghai
Phone: 021-64281322 Shanghai Haoshijia
T04, No.198 Caoxi Road
Phone: 021-54246681 Shanghai Red Star Macalline Zhenbei Phase III
A8176-A8177, No. 1108, Zhenbei Road
Phone: 021-32510623 Shanghai Evergrande Building Materials Store
No. 1650 Dongming Road, Pudong Evergrande Building Materials Market
Phone: 50870618-805 Haomeijia Caoan Store
Haomei Home Building Materials Supermarket No. 1488
Tel: 15021024750 Jiading Ouyamei GROHE Store
Room 1015, 1F, Ouyamei Plaza, 3588 Huyi Road, Jiading
Phone: 021-54250096 Shanghai Tongfu Yijiali
Shop 2-201, Tongfu Yijiali Building Materials Mall, 1515 Pusan ​​Road
Phone: 021-50102053 Shanghai Xinglida
B1-008, No. 2588 Kaixuan Road, Shanghai
Phone: 021-64392313 Shanghai Putuo Jinsheng Haolaifu
B010-C007, No.185 Tongchuan Road
Phone: 021-52242513 Shanghai Putuo Jinsheng Haolaifu
B010-C007, No.185 Tongchuan Road
Phone: 021-52242513 Shanghai Red Star Macalline Zhenbei Phase I
A8217, No. 1208 Zhenbei Road
Phone: 021-32518273 Shanghai Pudong Red Star Macalline
A8203, No. 2178, Hunan Road
Phone: 021-20257054 Shanghai Jiading Zhonghong Building Material Market
A8, 1st Floor, No. 3690 Bao'an Highway
Phone: 021-59157106 Haoshijia Songjiang Store
Songjiang Rongle Middle Road, Lane 318, No. 318 Haosijia Songjiang Store, 1st Floor
Phone: 021-57703978 Shanghai Jianpeilong
Gaoyi Hall 8205, International Pavilion, No. 15 Changyi Road
Phone: 021-56445145 Shanghai Naval Gonglucheng Building Material Market
Booth 320, 2nd Floor, 1205 Jungong Road
Tel: 021-65506858 GROHE's leading store in Beijing
10-04, Ground Floor, Building Materials Building, No. 14 Dongtucheng Road, Dongcheng District, Beijing
Tel: 010-85271359 Beijing North Fourth Ring actually home
Chaoyi District No. 65 North Fourth Ring East Road, Chaoyang District, Beijing
Phone: 010-84622643 Beijing Bixi actually home
1-070 Gaoyi Store in Beijing Lize Store
Phone: 010-63708380 Jianmao Taobao Store
Gaoyi Exhibition Hall, 308 Chengshou Temple Road, Chaoyang District, Beijing
Phone: 010-87633502 Beijing Shunyi actually home
Gaoyi Exhibition Hall, No. 28, 1st Floor, Hall 2, Hall 2, Middle Section of Shunbai Road, Shunyi District, Beijing
Phone: 010-87633502 Beijing Shunyi actually home
Gaoyi Exhibition Hall, No. 28, 1st Floor, Hall 2, Hall 2, Middle Section of Shunbai Road, Shunyi District, Beijing
Phone: 010-87633502 Beijing Shilihe actually home
2-1-1005, Shilihe Store, No. 106 Dayangfang Road, Shibalidian, Chaoyang District, Beijing
Phone: 010-67304135 Beijing East Fourth Ring Red Star Macalline
A6127 GROHE Store, 1st Floor, East Fourth Ring Mall, Red Star Macalline, Beijing
Phone: 010-87951336 Beijing North Red Star Macalline
Red Star Macalline B1062, No.1 North Beach, Deshengmenwai, Chaoyang District, Beijing
Phone: 010-64866768 Beijing Laiguangying Hongxing Store
Room C3-3106, Tianchang Park, Media Village, Beiyuan Road, Chaoyang District, Beijing
Phone: 010-84852200 Beijing Jinyuan Store
2-018 Gaoyi Store, No. 1 Yuanda Road, Haidian District, Beijing
Phone: 010-88864137 Beijing Juran Home Yuquanying Store
Beijing Gaoquan Store, Yuquanying, No.58 South Third Ring West Road, Beijing
Tel: 010-83678892 Gaoyi Leading Chongqing Store Chongqing Red Star Macalline Longjiang North Store
No.888 Xinnan Road, Yubei District, Chongqing
Phone: 023-67398080 Chongqing Juxinmei Home Furnishing
1222 Jinkai Avenue, North New District, Chongqing
Phone: 023-63082277 Chongqing Juxinmei Home
1222 Jinkai Avenue, North New District, Chongqing
Phone: 023-63082277 Chongqing Juxinmei Home
1222 Jinkai Avenue, North New District, Chongqing
Phone: 023-63082277 Chongqing Red Star Macalline Nanping Store
No. 58 Nanping West Road, Nan'an District, Chongqing
Phone: 023-62983778 Chongqing Juran Erlang Store
Home in No. 33 Yingbin Avenue, Chongqing High-tech Zone
Phone: 023-68680166
Summary: GROHE faucet has 20 stores in Shanghai, 16 stores in Beijing, 6 stores in Chongqing, and other small and medium-sized cities also have some scattered specialty stores, which are not listed here. The discount is small. If you are eager to buy the top bathroom configuration with the least amount of money, you may wish to pay attention to the latest group purchase activities on this website.Maybe there is also a super-cost-effective promotion for the Gaoyi faucet!
Related Reading
GROHE shower is not expensive GROHE shower official website price GROHE faucet where to buy GROHE faucet store address list Brand Germany GROHE faucetBrand introductionGROHE faucetHow is GROHE faucet good quality? Moen shower is not expensiveMoen shower official website quotes Official website quotes about how Moen sinks Moen sinks User reviews Where are Moen faucets sold Moen faucets where to buy cheap faucets What brand is good American Moen brand introduction Moen faucet Moen faucet user reviews
What, the decoration still uses his own money? ! The Qi family is decorated in installments, with an ultra-low annual interest rate of 3.55% and a maximum loan of 1 million. Apply now to enjoy the discount
If you are interested in brand cooperation, content cooperation, and advertising of this website, please send an email to :.
GROHE faucet GROHE bathroom faucet home official website home faucet building materials market door price
Weihai Tong Park Arts & Crafts Co.,Ltd , https://www.whtongpark.com