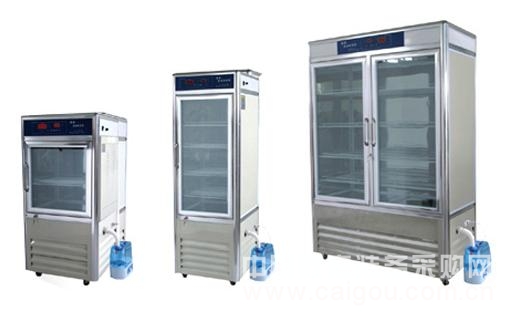 Shanghai Xinzhuang Instrument Co., Ltd. develops the artificial climate box of Xinzhuang (LNB) brand, which is energy-saving and environmentally friendly and domestically leading. Professional manufacturing is more secure, affordable design advantages:
◆Intelligent control technology ●It can simulate the temperature change of nature during the day and night, and can also simulate the multi-directional light source of nature. ●The set parameters can be automatically stored in case of power failure, and the original setting program is run after power-on. ●The automatic control of the circulating wind speed can avoid the plant seedlings being blown due to the excessively fast circulating wind speed during the test.
◆Humanized design ●According to the world's environmental protection trend, the new fluorine-free design makes you always at the forefront of healthy living. ● User-friendly touch button, menu-style operation, intuitive and clear, multiple parameters can be displayed on the same screen. ●It adopts mirror stainless steel inner tank and four-corner semi-circular transition. It can be used to disintegrate partitions or spacers in the box without tools. It is convenient for studio disinfection and cleaning.
◆Intelligent multi-segment programmable control ●The program controls temperature, humidity, illuminance, time and heating rate, and can be controlled by multi-step ladder program, which simplifies the complicated test process and realizes automatic control and operation.
◆Continuous operation technology ●Two sets of imported compressors automatically switch in turn to ensure that the plant cultivation does not malfunction for a long time, and breaks through the defects that the existing light incubator/artificial climate box cannot run for a long time.
◆Self-diagnosis function ●When the light incubator/artificial climate box fails, the LCD screen displays fault information, and the operation fault is clear at a glance.
◆Safety function ● Independent temperature limit alarm system, and sound and light alarm prompts the operator to ensure safe operation without accidents. ● The alarm is high or low.
◆Data control system ● RS485 or USB interface and software. ● Realize data recording, data communication, graphic dynamic display, and failure analysis. ● Optional printer system for data recording and GMP compliance.
◆Baffle-type lighting system ●In order to meet the user's higher requirements for uniformity of illumination intensity and flexibility of illumination space, the development of the diaphragm type illumination system, the user can adjust the partition, meet the needs of plant growth, and can be configured with multiple layers of illumination. System; while ensuring the uniformity of light intensity, the number of cultivated plants is greatly improved, and each layer of illumination system, the user selects different lamps to meet the requirements of different illumination.
◆Automatic detection and control of illuminance ● Use light sensor for monitoring and control to reduce illuminance attenuation and error due to aging of the lamp. Break through the existing domestic plant illuminance monitoring and control defects.
◆Wireless communication alarm system ●If the equipment user is not in the field, when the equipment fails, the system will collect the fault signal in time and send it to the designated receiver's mobile phone through the SMS first time to ensure timely troubleshooting, recovery test, and avoid accidents. loss.
◆CO2 concentration monitoring and control ●For plant wage training, infrared sensor is an ideal choice, because the recovery of CO2 concentration of infrared sensor is not affected by temperature and humidity. For changes in CO2 concentration, infrared sensor can be used within seconds. In response, the control accuracy is accurate and reliable.
Shanghai Xinzhuang Instrument Co., Ltd. is a laboratory equipment company that develops, produces and sells. Developed LNB brand instruments, the main products are low temperature thermostat, coolant circulation pump, constant temperature water tank, high temperature circulator, constant temperature shaker, freeze dryer, snow ice machine, ultrasonic cleaning machine, ultrasonic cell crusher, Ultrasonic extraction machine, aseptic homogenizer, ultra-clean workbench and other instruments.
Shanghai Xinzhuang follows the policy of "survival by quality, development by technology, efficiency by management, and credibility by service". Every step of equipment, every project, every link, welcome you to buy!
Http://
Made of supreme quality EVA material, water resistant, moisture proofing and dust-proof.
Comfortable fuzzy lining, soft shock absorbing protection against minor bumps drops and shocks, reduce damages caused by accidentally bumping.
Durable metal zipper, smooth but strong 360.degree zipper, provides durability and a long-lasting performance.

Eva Violin Case,Eva Double Violin Case,Eva Portable Violin Case,Eva Waterproof Violin Case
Shenzhen Guohui Craft Products Co.,Ltd. , https://www.evacarrycase.com