Despite the challenges of slow economic growth and rising raw material costs, the flexographic printing ink market continued to perform well in 2005.

In general, the flexo market has enjoyed relatively good momentum in the past year. Among them, the growth rate of flexible packaging is the largest, and at the same time, the paperboard printing industry has made a considerable contribution to market growth.

According to Mike Impastato, vice president and marketing manager of the packaging inks division of Flint Group North America, "Compared with other printing markets, the flexo market has been affected by the slowdown in the overall economic development in the past few years, and has been strongly developed. Soft packaging printing and the subsequent printing of paper and board guarantee the good performance of the flexo market."

Jim Freid, product manager for the Wikoff Color Liquid Ink Division, said, "The flexographic market maintained its market share in 2005 and we saw opportunities for business growth and development in this area. We hope we can benefit from it in 2006."

Brian Chwierut, flexible packaging product manager for Sun Chemical's Packaging Ink Division in North America, said: "The flexographic market, including packaging printing, labels, and a small number of business newspapers, has seen a slight increase in 2005. The biggest increase is in packaging printing, but it should be Will not exceed 2.5% growth rate."

Bob Nowak, General Manager of the Flexographic Division of Braden Sutphin Ink, said, "Our business has grown very well and our business growth has come from hang tags, labels, envelopes and flexible film printing. Compared to the same period last year, in the past ten months There are nine months of double-digit growth rates, including carton printing."

The flexographic market is vibrant all over the world
Mr. Impastato said, "Overall, the growth rate of packaging inks in North America and Europe is very close to the growth rate of local GDP. We see that in other parts of the world, the growth rate has reached double digits. The development momentum in Southeast Asia and China is very rapid. The economic development in these areas is fast and it is very likely that high economic growth rates will be maintained in the coming years."
Mr. Freid said, "We have found that for some foreign customers, due to the possible quality and stability issues of the local ink suppliers, our products are suitable for export to meet this demand. However, due to the air transport And import tariffs have brought about an increase in the cost of ink, making it difficult for our products to gain competitive advantage from price alone."

Mr. Chwierut said, "In Europe and Japan, flexo printing is not as dominant in the packaging printing market as it is in North America. However, as the quality of flexographic printing gradually catches up with gravure printing, and many in the industry have realized that the former is With some cost advantages in the product process, flexo is gaining more and more recognition around the world."

Increase in ink prices
It is questionable that the rising prices of raw materials and fuels are the most important factors affecting the flexographic ink market and the entire ink market. Flexographic ink manufacturers are struggling to raise prices to their customers.
Mr. Impastato said, "Last year's ink prices have increased, but it has not been able to completely offset the increase in raw material costs. In the past six to eight years, we have always been committed to reducing the cost beyond the main business. Through these effective Cost reductions and control measures have made it possible for us to offset the high costs associated with rising raw material prices in the past few years so as to avoid shifting this part of the costs to packaging and printing companies, since we have already achieved cost balance and business structure. We have no other solution to the recent increase in the price of raw materials. The ink industry must overcome the difficulties caused by rising prices, otherwise it will be difficult to maintain it in the long term."

Mr. Freid said, "The price increase of any product is difficult, and our raw material suppliers usually keep selling prices as much as possible. But when they pass on price increases to us, we face two options: if we If you keep the selling price, profits will decrease, or if you increase prices, you may lose part of your business.In the past, some costs have been increasing, but the price increase is quite difficult.In the last 12 months, Inside, as the dramatic changes in petrochemical products have become the headlines of newspapers, it seems that everyone has accepted higher energy costs and sometimes it is relatively easy to raise prices. For example, when oil prices doubled, their sales It's easier than the previous period when energy costs were stable. Of course, at the same time we also successfully achieved price increases."

According to Mr. Chwierut, the ink industry is facing increasing costs, raw materials shortages and the complex effects of natural disasters. He said that "unstable raw material prices have affected production and transportation costs and forced ink prices to increase. Most printers have already accepted price increases because they know that it is impossible for ink manufacturers to withstand the soaring raw material costs for several years and to always meet customer requirements for products.

Soft packaging products require high quality images and inks, which have the greatest potential for development, but flexographic ink manufacturers say rising raw material prices will hinder their development.

Mr. Impastato said: "We believe that flexible packaging will still have a good growth rate in 2006, but it may be dragged down by rising oil and material costs."

Mr. Freid said: "The most promising thing for 2006 is the flexible packaging market, where the market's demand for improved image quality is growing, and thus the need for corresponding high-quality ink products. We believe that our product positioning can well meet these requirements. demand."

According to Mr. Chwierut, the packaging printing market in 2006, vertical paper bags and shrink films are worth looking forward to.

   
Cast Iron Kettlebell
Kettlebell is made of cast iron. It is widely used in body strength and power training exercises, to build up muscles, burn body fat, increase muscular endurance and flexibility and enhance cardio-pulmonary functions. The Kettlebell can be used to swing, squat, pull, press, twist, clean and snatch. Weight ranges from 10kg to 50kg. Customized service available. It is safe and easy to use, under proper and professional guidance and instruction. Suitable for wide range of age groups. Being small in size, it is easy to store and works perfectly at home or gym. Based on its different coating, finish, material and application occasions, kettlebell can be sub-categorized into Cast Iron Kettlebell, vinyl kettlebell, adjustable kettlebell, Animal Face Kettlebell, cerakote kettlebell, clearance kettlebell, competition kettlebell, Powder Coated Kettlebell, steel standard kettlebell.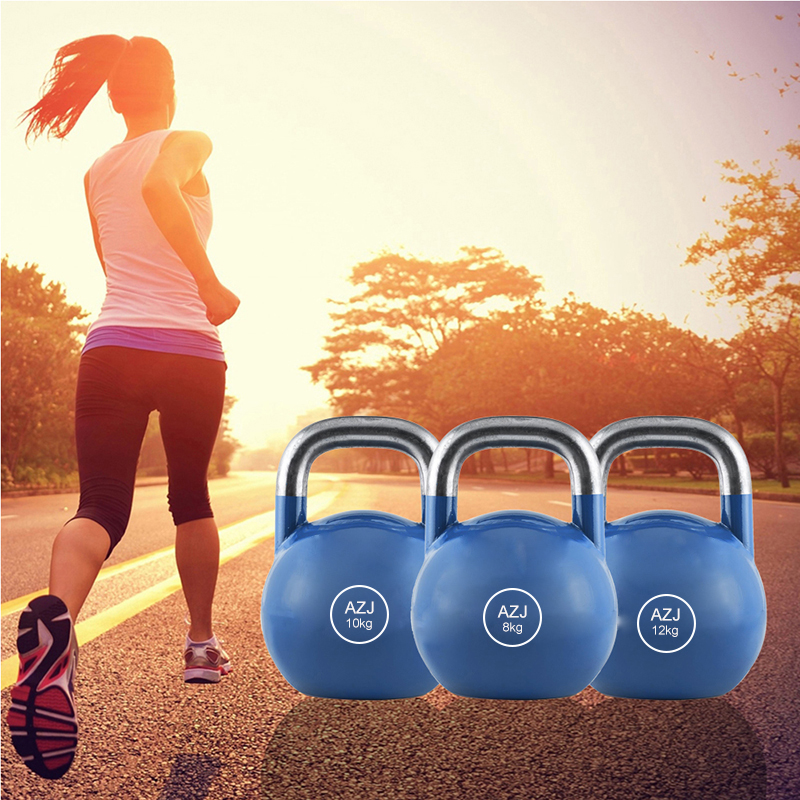 Cast Iron Kettlebell
Cast Iron Kettlebell,Coated Cast Iron Kettlebell,Competition Cast Iron Kettlebell,Gravity Cast Iron Kettlebell
AZJ (China) Fitness Products Co., Ltd , http://www.fitness-cn.com